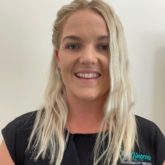 Shelby Cross
About
Shelby grew up in Western Australia and graduated as an Occupational Therapist with honours from Curtin University in 2015. Shelby has been working as an OT for over five years. She has experience in the inpatient setting as well as community mental health with both adult & young people services including early psychosis and more recently the National Disability Insurance Scheme. Shelby enjoys working with people with a range of backgrounds and ages. She has experience working with people who have a range of diagnoses including Schizophrenia, Bipolar Affective Disorder, Borderline Personality Disorder, Anxiety, Depression and Complex Post Traumatic Stress Disorder.
Shelby loves that she is able to hold space for someone during what is typically a difficult chapter of their life. She loves seeing her clients grow in confidence as they start learning new skills and engaging in occupations that bring them joy. Shelby strives to work collaboratively with individuals, their families & surrounding supports ensuring a holistic service is being provided.
After a recent move to the Sunshine Coast, Shelby is excited to soak up new adventures. She enjoys the beach, learning to surf, gym, boxing, bush walking, spending time with her puppy, reading and picnics.