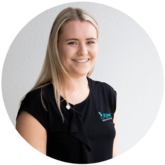 Samantha Bunker
About
Samantha B is an occupational therapist who has completed her studies in Occupational Therapy (Honours) at the University of the Sunshine Coast. Samantha B values the holistic process of gaining an understanding of individuals for who they truly are and working with them to best engage in occupations that are meaningful to them. She is a kind-hearted, gentle and thoughtful individual. She values the importance of listening, being genuine and holding hope to promote wellness despite barriers (including disability).
Samantha B was initially immersed in the mental health sector at the start of 2020 when she completed her final placement of her occupational therapy degree. This was a Queensland Health run 10-week, full-time, placement in Mental Health and Addiction Services. During this placement, she attended The Vona du Toit Model of Creative Ability personal development workshop held by Minerva Allied Health Services. This is where she was first introduced to Carla Van Heerden and the concept of an individual's level of volition.
Samantha B has also been working with National Disability Insurance Scheme (NDIS) participants since March 2019 as an NDIS support worker. Through this 1:1 experience, she has supported multiple wonderful individuals with various disabilities including Autism Spectrum Disorder, Attention Deficit Disorder, Intellectual Disabilities, Cerebral Palsy, vision impairments, language impairments and participants with trauma histories.
Samantha B is looking forward to welcoming you to Minerva.